Ruszyła kolejna rekrutacja do Programu Głównego Pracowni Liderów Prawa!
2017-12-10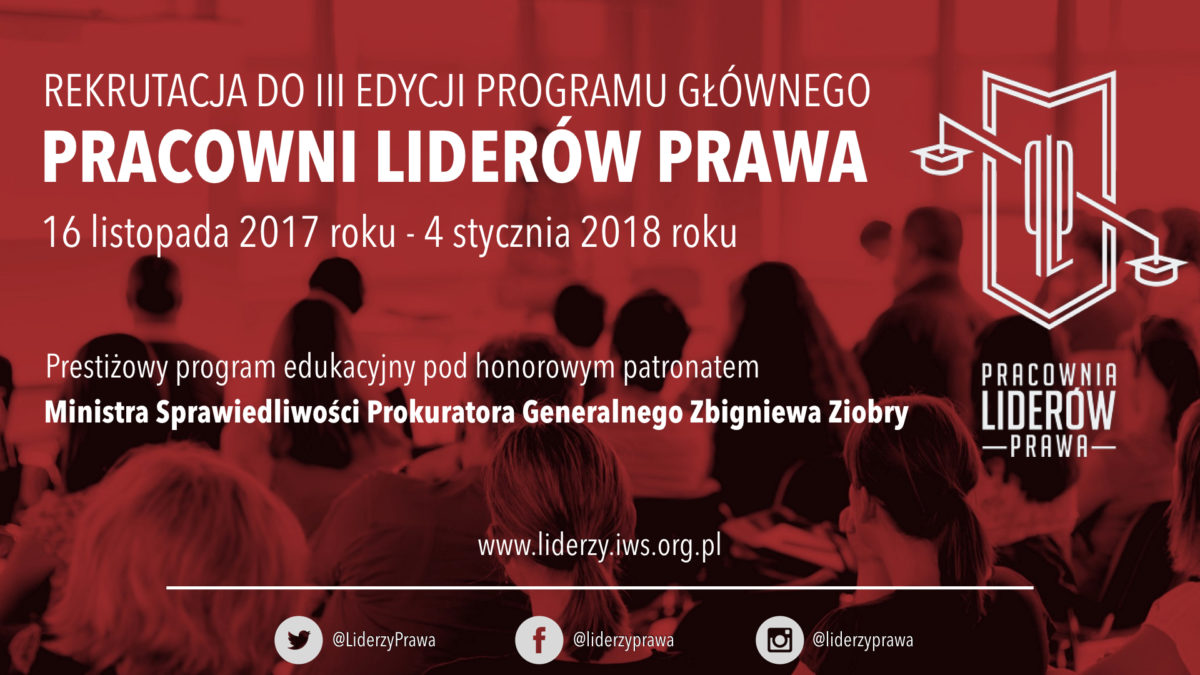 W okresie od 16 listopada 2017 roku do 4 stycznia 2018 roku prowadzona jest rekrutacja do III edycji prestiżowego programu edukacyjnego "Pracownia Liderów Prawa" realizowanego pod honorowym patronatem Ministra Sprawiedliwości Prokuratora Generalnego Zbigniewa Ziobry.
Pracownia Liderów Prawa to cykl seminariów, w ramach którego liderzy prawa, polityki i gospodarki przekazują swoją wiedzę oraz dzielą się doświadczeniem z uczestnikami rzeczonego projektu. W ramach jednego półrocznego cyklu zorganizowanych zostanie 7 zjazdów w centralnej Polsce, Szkoła Letnia oraz Projekt Społeczny.
W ramach tej edycji do aplikowania serdecznie zapraszamy studentów (III – V roku) i absolwentów prawa, a także studentów oraz absolwentów innych kierunków z obszaru nauk humanistycznych i społecznych, a nawet technicznych i ścisłych o ile byłoby to uzasadnione ich zaangażowaniem w obszarze prawa.
Udział w Pracowni jest nieodpłatny. Organizator zapewnia wyżywienie oraz nocleg podczas zjazdów. Uczestnicy projektu otrzymują certyfikat udziału w Programie, a najbardziej zaangażowane osoby także niepowtarzalną szansę na odbycie praktyk w Ministerstwie Sprawiedliwości, Kancelarii Prezesa Rady Ministrów, czy też w Instytucie Wymiaru Sprawiedliwości.
Wszelkie informacje oraz formularz rekrutacyjny dostępne są na stronie internetowej www.liderzy.iws.org.pl. Aby być na bieżąco ze wszystkimi wiadomościami dotyczącymi rekrutacji zachęcamy także do obserwowania profili Pracowni Liderów Prawa w mediach społecznościowych: