Spotkanie z Mikołajem Pawlakiem, Rzecznikiem Praw Dziecka
2019-01-12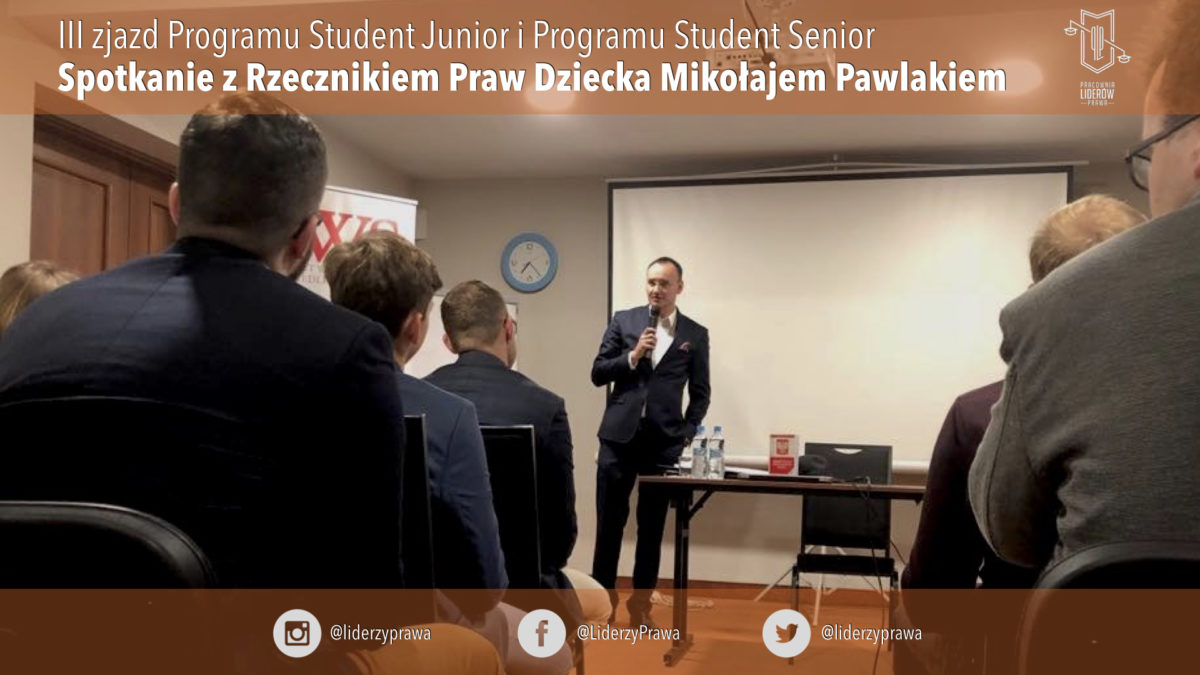 W sobotę 12 stycznia 2019 roku podczas III zjazdu Programu Student Pracowni Liderów Prawa gościliśmy Rzecznika Praw Dziecka Pana Mikołaja Pawlaka. Pan Rzecznik to adwokat praw obojga, prawa świeckiego i kanonicznego. W praktyce adwokackiej skupiony przede wszystkim na prawie rodzinnym oraz prawie cywilnym i gospodarczym. Wybrany  przez Sejm RP na stanowisko Rzecznika Praw Dziecka w dniu 23 listopada 2018 r. na kadencję 2018-2023.
Poprzednio Dyrektor Departamentu Spraw Rodzinnych i Nieletnich w Ministerstwie Sprawiedliwości, w którym to nadzorował w imieniu Ministra Sprawiedliwości sądy rodzinne, zakłady poprawcze oraz schroniska dla nieletnich. Uczestniczył w projektowaniu, a także wprowadzaniu w życie reform dotyczących prawa rodzinnego i Funduszu Sprawiedliwości, którego działalność nakierowana jest przede wszystkim na pomoc osobom pokrzywdzonym przestępstwami oraz przeciwdziałanie przestępczości.
Podczas spotkania z uczestnikami Pracowni Pan Rzecznik Mikołaj Pawlak mówił między innymi o prawnej ochronie rodziny oraz planowanych przez niego działaniach.