International conference on counteracting domestic violence
2022-09-20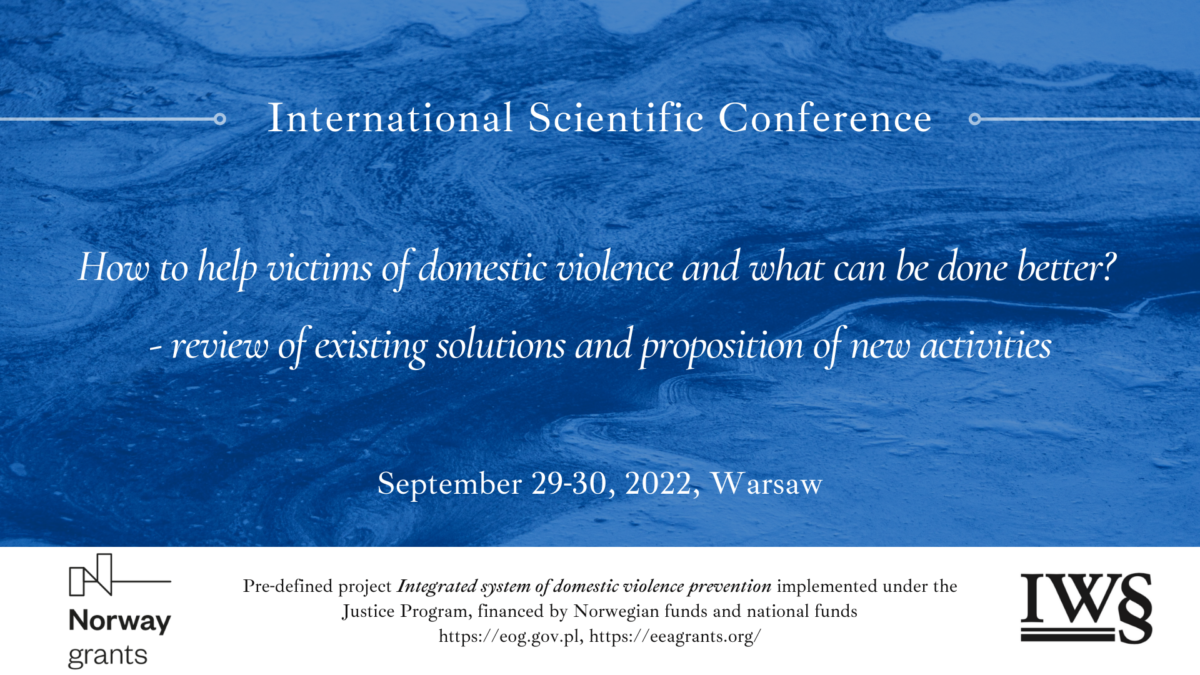 The Institute of Justice invites you to participate in the international scientific conference on counteracting domestic violence, entitled "How to help victims of domestic violence and what can be done better? – review of existing solutions and proposition of new activities ".
The conference will be organized on September 29-30, 2022 as part of the research project entitled "Integrated Domestic Violence Prevention System" which is run by the Institute of Justice in cooperation with the Norwegian University of Stavanger.
The aim of the conference is to raise public awareness of the phenomenon of domestic violence, as well as inform the public about the project implemented in Polish-Norwegian cooperation and popularize information about the "Justice" Program. – This program aims to improve the protection of families by implementing an integrated domestic violence prevention system. The aim of the project is to create a model of violence prevention, its testing, and then implementation and practical application – says Klaudia Łuniewska, coordinator of Polish-Norwegian projects at the Institute of Justice.
In recent years, the phenomenon of domestic violence has increased in most European countries, so there is an urgent need to find comprehensive solutions to the problem. Experts indicate that the best way to solve this phenomenon is to prevent, not just react to the effects of violence. Therefore, it is very important to increase vigilance not only at the stage when families are in imminent danger of domestic violence, but much earlier. The idea of ​​the project is to take preventive measures that should be implemented as system solutions at the local level. The key element of the project is the development of a system of integrated solutions in the field of domestic violence prevention, which after the testing phase in selected municipalities could be implemented on a large scale – says Łuniewska.
The "Justice" program is financed by Norwegian funds and national funds. The conference will be held at the seat of the Institute of Justice at ul. Krakowskie Przedmieście 25 in Warsaw. During the debate, representatives of Polish and foreign research centers will take the floor, including prominent practitioners and scientists specializing in social sciences such as sociology or legal sciences.
Participation in the event is possible after prior registration and confirmation from the Institute of Justice. Registration can be made via this link until September 25, 2022: https://forms.gle/Xqa1ueNQVUdEU7Du9
Day 1:
https://us02web.zoom.us/j/89886829031