Promotion of the book by the Minister of Justice of Hungary J.E. László Trócsányi
2017-10-20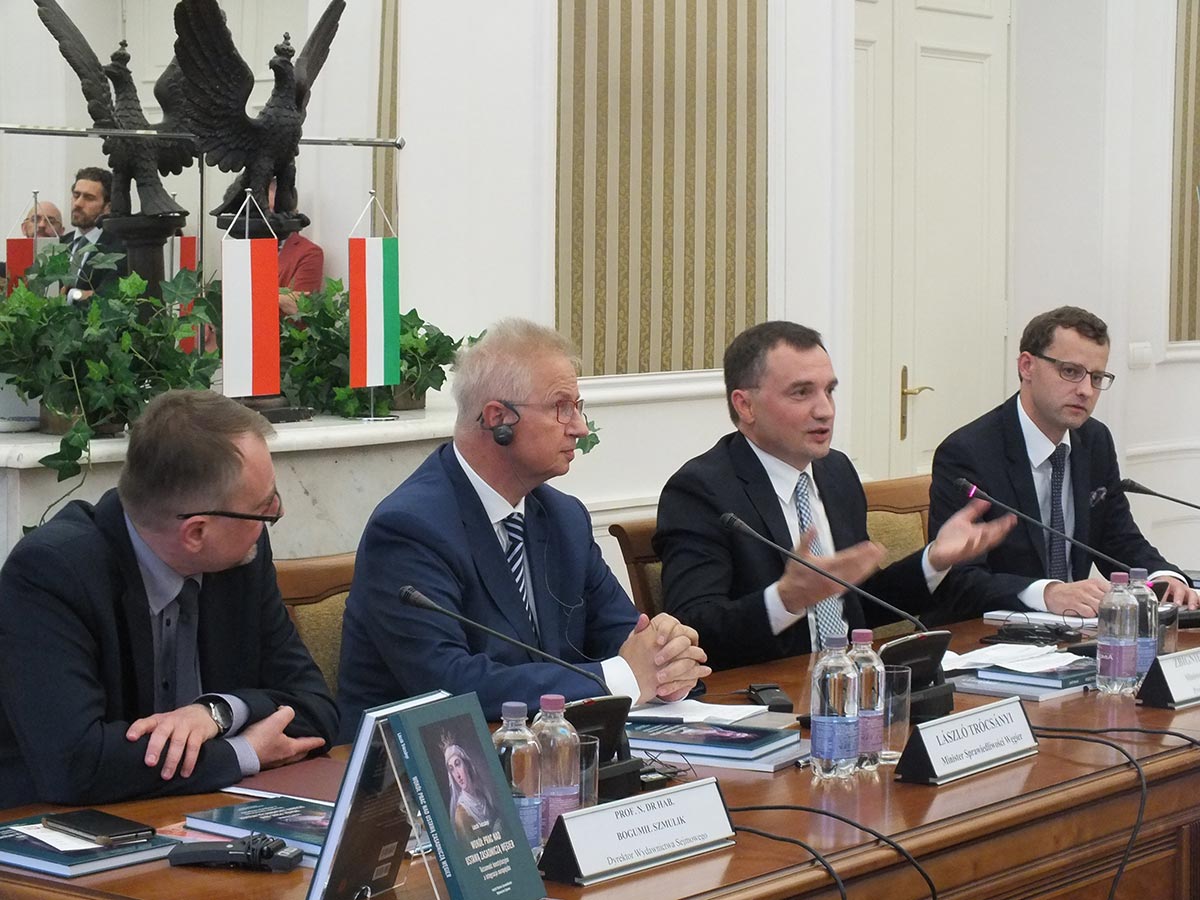 On October 20, an exceptional event took place at the Institute of Justice, where J.E. László Trócsányi, Minister of Justice of Hungary, presented the Polish translation of his book entitled "Around work on the Hungarian Basic Law. Constitutional identity and European integration. " The meeting was attended by the Minister of Justice Attorney General Zbigniew Ziobro.
After the welcome of the guests arrived by the host, Director of the IWS, dr. Marcin Romanowski, the book was presented by prof. dr hab. Bogumił Szmulik, director of the Sejm Publishing House.
The next speaker was the Minister of Justice Attorney General Zbigniew Ziobro, who in his speech underlined the common idea cementing Polish-Hungarian friendship focused around the consistent construction of an independent state on the basis of national pride and identity, created on the principles of true democracy.
In the lecture, the author of the book, prof. László Trócsányi presented in an interesting way the problems of contemporary Hungarian constitutionalism, transferring its individual elements to the ground of historical and cultural considerations. Putting a reflection on the constitution of Hungary in such a rich, broad context certainly allows to define this speech as complete.
The author introduced the participants to the specificity of the Hungarian legal system by discussing key issues in the field of constitutional law, such as the division of power, sovereignty or the protection of fundamental rights. The main part of the speech was devoted to the reporting of the process of creating the constitution, and a special emphasis in this area was placed on showing the relations of the contemporary constitution with the Hungarian tradition.
It is worth noting that prof. László Trócsányi in his book willingly undertakes to consider the difficult issue of relations between member states and the European Union in matters of constitutional independence. The author expressed the view that the right to a constitutional identity derives from both the position of each Member State and the legal basis of the Union's action. This thread has been extensively expanded in reference to the provisions of the Treaty of Lisbon and the rights enjoyed by the Member States, which have been subject to a detailed analysis.